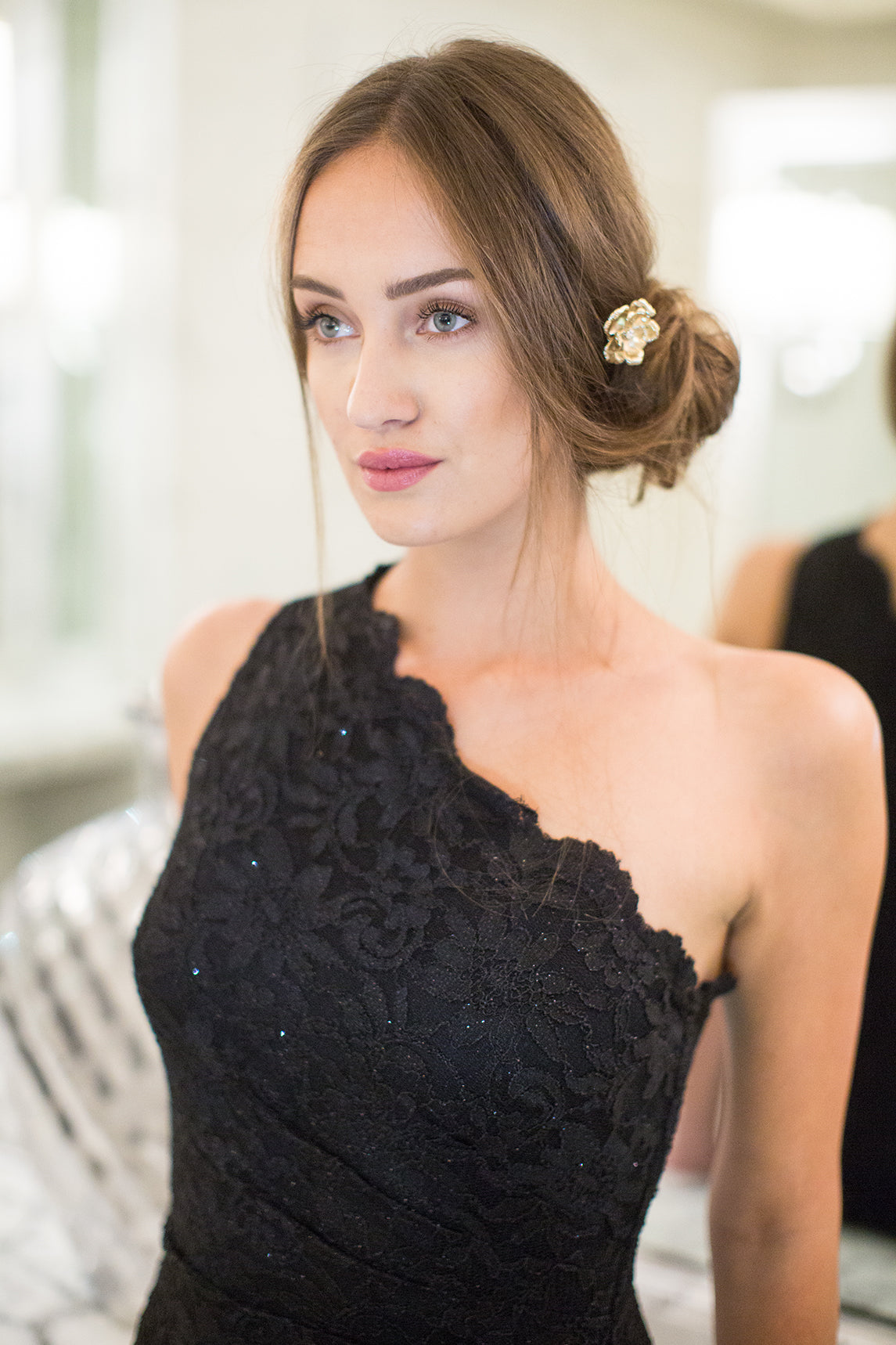 Our Renata & Leticia Pins
Posted by: Nicoletta Daskalakis -
Our new summer 2017 collection of bridal hair accessories has a beautiful range of hair clips that is both versatile and subtle for the bride that wants to make a pretty yet understated bridal look on their wedding day. Our pins can either be worn as a single piece or double up and can be used in the front or the back of a bridal up-do. Whether you want to wear your hair up or down or use the clips in the front or back of your bridal hairstyle, it is always lovely to have a piece in your hair for that extra something special.
Today we want to talk about our 14k gold plated pins Renata and Leticia. Our Renata pin is sold as a single piece and comes in 14 K gold plating. It has a delicate floral design with a crystal placed in the centre. This pin looks gorgeous at the back of a bridal bun and looks really striking when you put two side by side together.

Our Leticia bobby pin is a simple but stunning 14 k gold plated leaf design and can be worn delicately with any bridal hairstyle. We particularly love this piece if you are having an outdoor more bohemian style wedding as the natural design of the leaf would fit in with this theme perfectly.
What we love about our pin collection is not only can it be worn by the bride but they also make a beautiful gift to the bridesmaids. They can also be worn to enhance the hairstyles of the bridesmaids on the wedding day as they are gorgeous but simple and can then be kept as a keepsake and gift from the day. Each of our pins come in a stunning signature box that has been designed with quality in mind.

These days brides are looking for unique ways to stand out on their wedding day and a hairpiece is a beautiful way to enhance the beauty of the dress as well as let your bridal hairstyle stand out. Whether you are looking for something simple or bold, Brides and Hairpins definitely has a piece that will feel like it has been designed specifically for you. All our pieces are handmade with attention to detail and quality and we love to make you feel extra special on your wedding day.



With love,