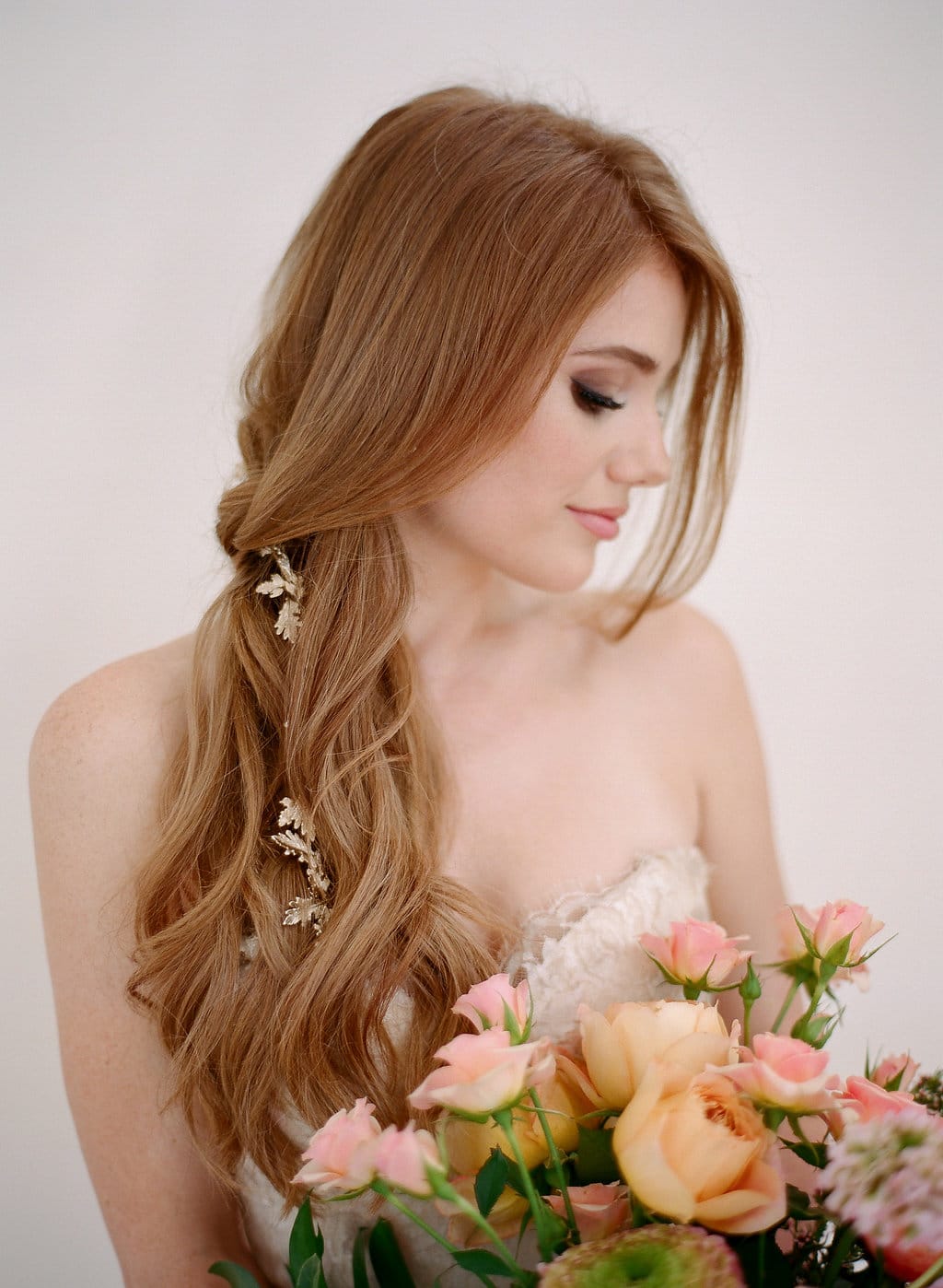 Simple and sneaky ways to include some bling in your wedding hair
Posted by: Nicoletta Daskalakis -
Not everyone wants an obvious or very visible hair accessory on their wedding day. Some brides are more interested in the simple (and hidden!) hair pieces, those that pop out every now and then, giving your guests the best bejeweled surprise!

Hair accessories don't have to be daring and over-the-top to make an impact; these are our top pieces that you can subtly include in your wedding day hairstyle:



Our Paula Halo: We are obsessed with how versatile and beautiful this halo is. 14K hand painted leaves that can be delicately threaded into a side plait or loose side ponytail (shown below).


Our Renata Pin: One single gold flower, with a sparkling crystal centre. This beautiful pin can be worn anywhere in your hairstyle to add a little pop of glam: either pinned in place on one side of the head (like below right), pinned into a low bun or in the centre of a gather at the back of the head, with loose curls or straightened hair hanging free.


3. Our Catherine Comb: Another way to keep your hair accessories to a minimum is to choose something, like our Catherine Comb, that can be worn to one side. This way, it's only exposed from one angle, and doesn't feel to overwhelming for a bride that isn't used to bling.

4. Our Giovanna Bobby Pin: This delicate leaf design is made from 14K plated gold, and is ideal if you'd like to move your accessory around during the wedding day. For example, it could be used to hold your veil in place or as an extra pop of gold while your veil is on during the ceremony. Afterwards, when you remove your veil, the Giovanna can be reused to hold hair back and can be made more prominent for the Reception part of the day.
There's no need to worry if you're a more conservative bride. Hair accessories shouldn't scare you or make you feel like you have to forfeit what you're used to in order to make one work. There are so many simple and delicate options for the minimalistic bride, no one should have to say no to some extra glam on their big day!