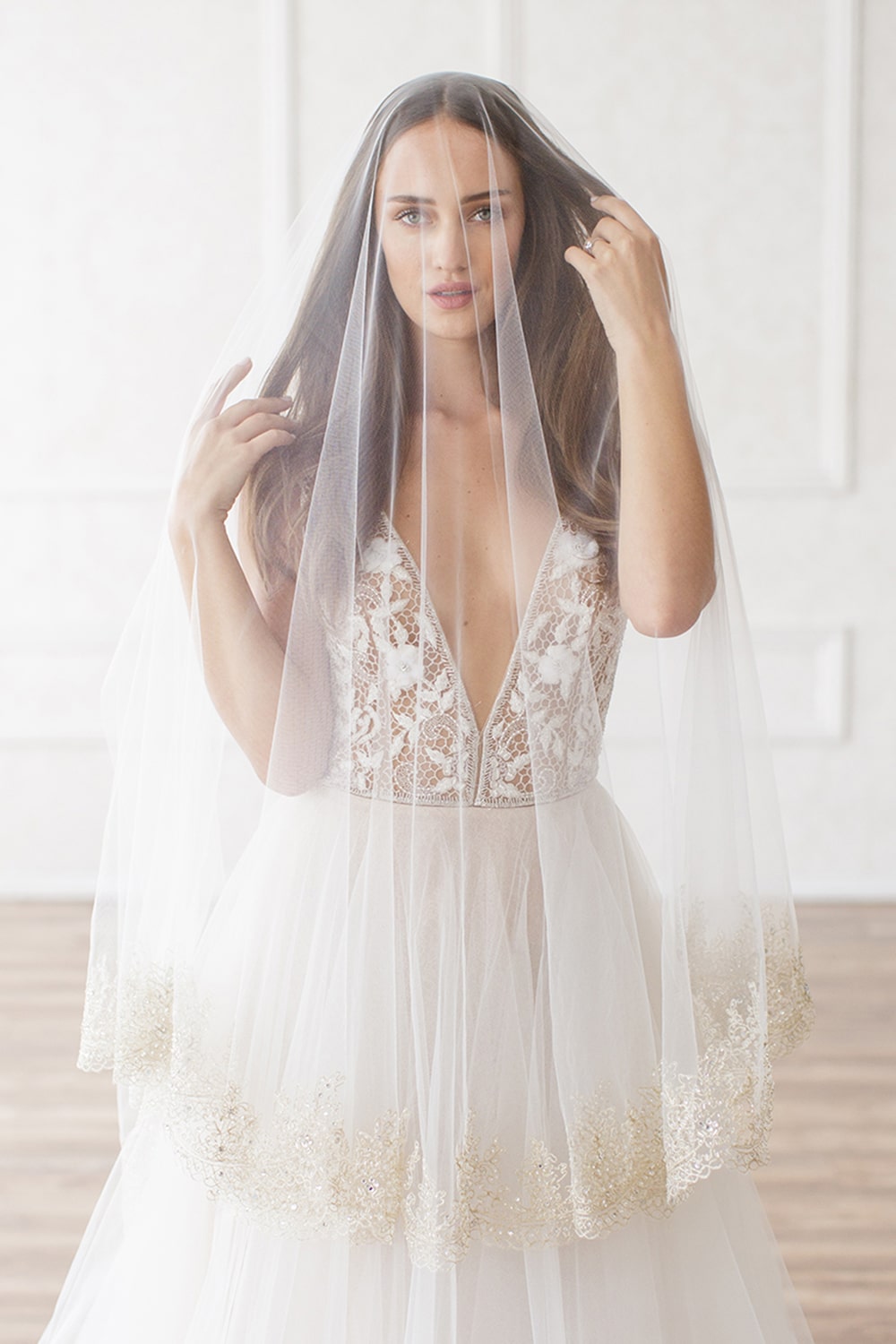 Which veil is best for you? We break it down.
Posted by: Nicoletta Daskalakis -
Some brides have always known that they'll be wearing a veil on their wedding day. Whether it's part of family tradition, or something you've always seen yourself in, veils can completely transform (and complete) the bridal look.

Not sure which veil to go for, or what all the terms mean? We've got you covered!

First up, the Drop Veil. A drop veil (also known as mantilla style) is circular and has no gathers at the crown of the veil. It can literally be dropped onto the head in a single layer of lace or tulle. Drop veils are often bordered with lace or ribbon to add extra detail. Drop veils are a great choice if you want to wear a veil, but don't want too much of your dress to be covered up (something like a detailed back for example). They are often transparent enough to still see the dress detail below, but still give the beautiful veiled bridal feel. One of our faves? The Jaton drop veil below.
Elbow & Fingertip veils. These veils are great choices if you're wanting something more conservative for the ceremony. They're an elegant way to cover up the shoulders and arms, without needing a bolero or shrug. The elbow veil is also the perfect option if you want to wear a veil, but your wedding gown has a beautiful or ornate skirt that you don't want to cover up. We love the Sophie elbow veil, seen below left. Elbow veils are also easy to manage while still being elegant, and because they're more informal, they work great for daytime weddings.

A fingertip veil is usually the most popular choice for brides, because it flatters all body types and dresses. It does well to keep the focus on a wedding bodice with a unique design, that's why we love the Lucca fingertip veil, below right.
The Cathedral veil. This is the most formal wedding veil, usually at a length of about 108 inches. Although they can be heavy or more difficult to manage, they make the most stunning impression coming down the aisle, and they create beautiful wedding images! Make a statement with our Katerina cathedral veil.
Choosing a veil is not as simple as a Yes or No answer. As you can see, there are so many different lengths and styles to choose from. But, once you've decided what works best for you, the fun begins!